HYCM Adds Ripple and Bitcoin Cash – YCM has added two more cryptocurrencies to their platform, bringing the total on offer to five. The new additions are the popular Ripple (XRP) and Bitcoin Cash (BCH)CFDs. As of this writing, based on their market capitalisation they rank 3rd and 4th respectively.In case you missed it, HYCM offers Bitcoin, Ethereum and Litecoin.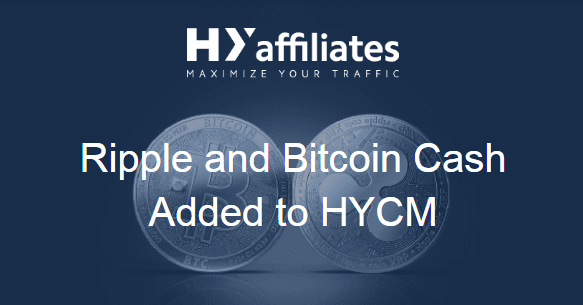 Source: HYCM Forex Broker
HYCM Broker review and Details 
What is the Ripple?
Ripple is a real-time gross settlement system, currency exchange and remittance network by Ripple. Also called the Ripple Transaction Protocol or Ripple protocol, it is built upon a distributed open … Wikipedia
Ripple connects banks, payment providers, digital asset exchanges and corporates via RippleNet to provide one frictionless experience to send money globally.
What is the Bitcoin Cash?
The Best Money in the World – Bitcoin Cash brings sound money to the world, fulfilling the original promise of Bitcoin as "Peer-to-Peer Electronic Cash". Merchants and users are empowered with low fees and reliable confirmations. The future shines brightly with unrestricted growth, global adoption, permissionless innovation, and decentralized development.
---
Categories :
---
Tags :
Ripple and Bitcoin Cash
---