Manufacturing PMIs, Canada GDP, "Super Tuesday"(2016.03.01)
Source: Fxprimus Forex Broker (Review and Forex Rebates Up to 85%)
A lot of important information out today, but some of the most important – the Chinese PMIs and the Reserve Bank of Australia decision – are out already.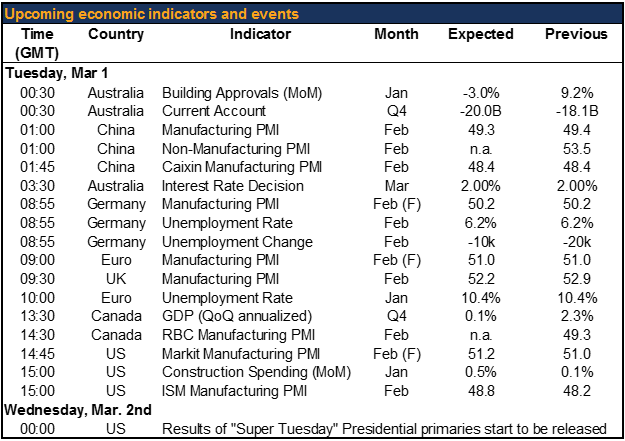 Tuesday, March. 1st
08:55 GMT   German unemployment (Feb), final manufacturing PMI:  The unemployment rate is expected to stay steady at 6.2% with the number of unemployment claims continuing to fall. Germany is an outlier in Europe though as most other EU countries have much higher unemployment. (The median level in the countries with over 1mn population, excluding Germany, is 9.8%.) Nonetheless, continued low unemployment in Germany would probably be somewhat supportive for EUR.
The EU unemployment rate for January comes out about an hour later, but that is less relevant for the markets as it's a month behind.
The final German manufacturing PMI for February will be released at the same time. As always, the forecast is the same as the preliminary figure.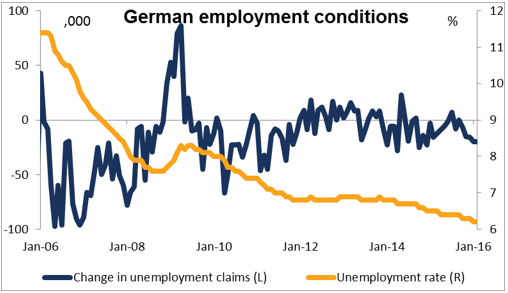 09:00 GMT   EU final manufacturing PMI (Feb):As with the final German manufacturing PMI, the market forecast is the same as the preliminary index.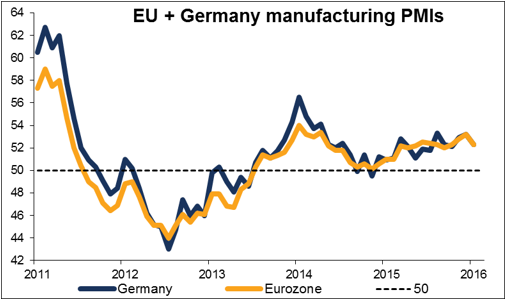 ---
Categories :
---
Tags :
forex bonus without deposit
Forex Broker
forex broker bonus
forex learn
forex learning
forex learning pdf
Forex News
forex tutorials for beginners pdf
FxPrimus
how to trade forex for beginners pdf
learning forex trading pdf
Manufacturing PMIs
---