OKX as One of the Largest Exchanges in the World                         
OKEx, newly OKX, is an online digital currency exchange that allows users to trade a variety of cryptocurrencies, including Bitcoin (BTC) and Chia (XCH). With its spot and derivative assets and lending and mining services, the digital currency exchange has acquired more than 21 million international customers.
OKX is a cryptocurrency startup that provides a cryptocurrency exchange as well as a number of other services. Users all around the globe can use the Seychelles-based exchange. However, it is not accessible for American clients who live in the United States.
OKX history 
OKX was established in 2017 and has branches in many countries. Its headquarters are in Seychelles. OKX is managed by Ok Group, which also operates Okcoin, a cryptocurrency exchange. OKX is the world's 18th largest digital currency exchange by volume, based on the data taken from CoinMarketCap.
Given Malta's efforts to offer a stable legislative environment for blockchain enterprises and digital asset exchanges, the exchange reported its expansion to Malta on April 11, 2018. As a result, the platform became one of the most popular cryptosystems to open this year. Then the exchange could get the top rank among the largest digital currency exchanges by reported turnover. And recently, in January 2022, OKEx changed its name to OKX.
OKX environment and platform
OKX, like many other prominent digital currency exchanges, provides a basic trading environment for novices and an open trading platform for intermediate to advanced users. The fundamental forms for purchasing and converting cryptocurrencies are straightforward and easy to use. This is ideal for folks who are new to cryptocurrencies and want to purchase their first digital currency and experience trading.
You may quickly and easily use OKX's conversion box to exchange currencies, including stablecoins. This is similar to a straightforward market transaction on an open trading system but with a more user-friendly form and interface.
Professional users would probably prefer the active trading interface, which includes market, stop orders, limit functional conditional trades, the OKX exchange's active order book for accepted currencies, and adjustable market graphs. Traders can alter layouts for varied requirements after signing in.
Users may see real-time crypto values, buy and sell digital currencies with a few moves, and arrange live price-fluctuation notifications on their interested currencies.
You can also compare currency prices across exchanges and examine the platform's volume statistics.
The platform has received favorable feedback from customers, who praise its dependability and ease of use. A demo account and demo environment are also available for traders to practice trading.
The exchange market
The OKX market enables both fiat-to-crypto and crypto-to-crypto transactions, which is usual for digital currency exchanges. However, the Chinese Yuan is now the sole fiat money accepted. In addition, the exchange now serves more than a hundred digital currencies and tokens, with new ones being added on a regular basis.
The site also offers margin trading, with a maximum leverage of 20:1 – the greatest of any cryptocurrency traded or CFDs broker. Margin trading with digital currencies is often limited to 20:1 due to their price volatility. OKX also provides Bitcoin, Ethereum, and EOS futures trading, with monthly and weekly contracts available. Futures contracts can also be traded on leveraged margin.
The overall number of digital currencies on the exchange is over 300. 2 Here is a brief list of digital currencies traded on OKX in terms of volume:
Is OKX a secure exchange?
OKX is on the list of the largest digital currency exchanges with significant financial backing, so it's reasonable to expect that OKX's cybersecurity structure meets industry best practices. For example, distributed server clusters, GSLB, and cold storage multi-signature wallets are among the security features listed by OKX.
The recommended methods for keeping your bank accounts safe, on the other hand, are identical. To prevent hackers out of your money, use strong passwords that are unique to each website and service and a multifactor authentication program. For the majority of a client's assets, OKX employs industry-standard security methods, including cold storage. It also includes extra features such as the option to create a withdrawal and an anti-phishing password.
Elaboration on the exchange pros
Low trading costs of 0.10 percent or less for the majority of transactions: Trading fees begin at 0.10 percent and drop as trading volumes or stakes in OKX's asset, OKB token, increase.
High-interest staking possibilities: You may get more than a 100% yearly interest rate when staking specific digital currencies.
Buying digital currency with a credit card, a bank account, or a digital wallet is simple: With various payment methods such as bank account, credit or debit card, Google Pay, Apple Pay, and other compatible methods, you can buy digital currencies in just a few moves.
Elaboration on the exchange cons
OKX is not accessible to clients in the United States due to regulatory and compliance issues.
Several currencies lack liquidity: Despite being a top-20 exchange, several currencies trade with little liquidity.
Customer feedback has been mixed: Poor customer service and money lost have been mentioned in some evaluations.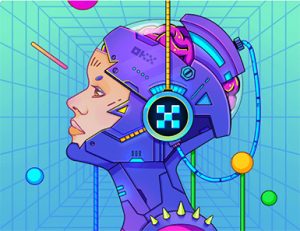 Final words

OKX is a well-supported exchange with big plans for the future. For more professional clients, there aren't a lot of digital currency exchanges that provide the type of professional trading system that OKX delivers, complete with the functions and trading structures seen in large, existing financial exchanges. Low trading costs are another significant benefit that will appeal to more professional clients.
Official Website: www.okx.com
Source: The Pipsafe Team
---
Categories :
---
Tags :
---