[text]
Technical Analysis of Silver dated 2015.01.13

Price since the end of 2011 till now was in strong and consistent downtrend with a little price reformation and Sellers were successful in achieving the lowest price of 14.401 .Price has formed a bottom price with reaching to the specified supportive levels in the picture below and it has stopped from more descend and has started a little ascend with shows exit of some sellers from their trades.

In Monthly time frame with formation of Spinning Top candlestick pattern in previous candle, there is a warning for formation of a bottom price (need to be recorded) and vulnerability of downtrend. As it is obvious in the picture below, there is AB=CD harmonic pattern with ideal ratios of 0.382 and 2.42 between the bottom price of 14.401 and the top price of 49.689 that warns changing price direction from D point.

Stoch indicator is in saturation Sell area and confirms the harmonic D point and potential for ascending of the price. In case of ascending of the price, one of the buyers target will be the Down Trendline(made of 4 top prices). Generally according to the formed signs in this price chart, until the bottom price of 14.401 is preserved, there will be the potential for ascending and price reformation in this Metal.
Written by the technical team of PipSafe Company
Silver Chart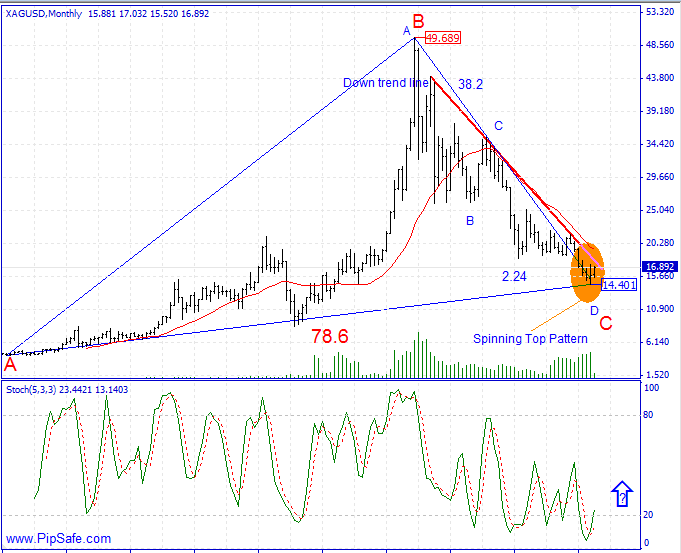 [/text]
---
Categories :
---
Tags :
AB=CD harmonic pattern
Silver
Silver Analysis
Stoch indicator
---