UK unemployment fell to its lowest level since 1975, data on Wednesday revealed. Unemployment fell by 75K, bringing the unemployment rate down to 4.3% (from 4.4%). Wage growth was unchanged from the previous release at 2.1%, but recent inflation data of 2.9% shows wage growth is clearly not keeping up. A strong labour force is helping UK growth but the specter of a rate hike, to keep inflation near to the Bank of England's 2% target, has the markets concerned, although many do not see an increase until well into 2018.
A plethora of data was released from China on Thursday, showing weaker than expected numbers. Year-on-Year data showed Chinese retail sales at 10.1% (forecast 10.5%), Industrial Production at 6% (forecast 6.6%) and fixed asset investment at 7.8% (forecast 6.6%). Whilst the released data missed forecasts they still indicate a strong economy that is helping global demand.
In the US, Speaker of the House, Ryan, stated on Wednesday that a plan for tax reform would be released by the Republicans in the week of September 25th. An overhaul in the US Tax system is desperately needed by the Trump Administration as they have struggled to implement any of their planned initiatives. The markets will now be focusing on several interest rate decisions in Europe and inflation data from the US today.
EURUSD moved lower, following a 0.7% drop on Wednesday. Currently, EURUSD is trading around 1.1875.
USDJPY is little changed in early trading. Currently, USDJPY is trading around 110.45.
GBPUSD suffered as sluggish wage growth data were blamed for a fall in value of GBP against USD. Currently, GBPUSD is trading around 1.3205.
Gold was little changed overnight, currently trading around $1,322.
WTI moved higher on Wednesday, following the EIA report that global oil demand is at its highest level since 2015. Currently, WTI is trading around $49.60.
Major economic data releases for today:
At 08:30, the Swiss National Bank will release their Interest Rate Decision. Rates are not expected to change form the existing 0.75%, but the markets will pay attention to the tone of the announcement for clues as to when policy may soften.
At 12:00, the Bank of England will release their Interest Rate Decision. With recent increases in UK inflation, the markets will be looking for clues as to the timetable for future rate hikes in the minutes that will also be released. Consensus calls for there to be no change in rates today.
At 13:30 BST, the US Bureau of Labor Statistics will release US CPI & CPI Exc. Food & Energy (YoY) for August. CPI exc. Food & Energy is forecast to come in at 1.6% (prev. 1.7%), whilst CPI is forecast to come in at 1.8% (prev. 1.7%). The impact of the recent Hurricanes & the resulting recent gasoline price hikes may result in a distorted release. Markets are likely to see USD volatility regardless of the data released.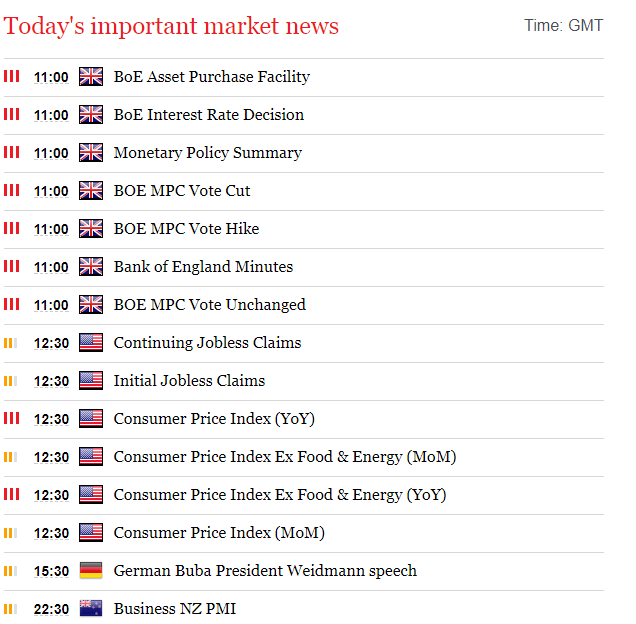 Source: Fxpro Forex Broker
Fxpro Forex Broker Review and Details
---
Categories :
---
Tags :
UK Unemployment
US CPI & CPI Exc
---